Energy efficiency in the industrial valve sector has become a fundamental pillar. As companies seek ways to reduce operating costs and minimize their environmental footprint, optimizing energy efficiency in the use of these valves has become imperative. The importance of energy efficiency lies in its ability to conserve valuable resources and reduce energy-related expenses. In an industrial environment where valves play a crucial role in flow control and process regulation, every improvement in energy efficiency can translate into significant savings.
By focusing on energy efficiency in industrial valves, companies can not only optimize their operations but also comply with constantly evolving environmental and energy standards. In this article, we will thoroughly explore key aspects of energy efficiency in industrial valves, providing insights and strategies to help drive sustainability and profitability in your industrial pump and valve machining and welding company.
Therefore, in the world of industrial valve manufacturing, energy efficiency is essential in a variety of critical sectors, such as oil & gas, naval, pulp and paper, petrochemical, nuclear, cryogenics, desalination, and wastewater treatment. At Asimer Group, we understand the importance of providing cutting-edge engineering solutions that not only meet the rigorous standards of these sectors but also contribute to resource conservation and reduced operating costs.
Why is Energy Efficiency Crucial in the Valve Industry?
Energy efficiency in the industrial valve sector has become an imperative that goes beyond mere environmental concern. The need to improve energy efficiency in this sector is grounded in a series of solid and concrete reasons. First and foremost, it's about economics. Companies involved in industrial pump and valve machining operate in a highly competitive environment with tight margins.
Energy represents a significant operating cost, and energy efficiency is a direct path to reducing expenses. Investment in technologies and practices that enable more efficient energy use can result in substantial savings over time. But beyond economic savings, there is an environmental responsibility. Reducing energy consumption in the production and operation of industrial valves contributes to the reduction of carbon emissions and the preservation of natural resources.
This not only benefits the company in terms of its image and compliance with environmental regulations but also aligns with the increasingly eco-conscious expectations of customers and business partners. Furthermore, from a technical perspective, industrial valves can be considered a critical point in energy use. They are key components in flow control systems and industrial processes.
Even a small inefficiency in a valve can generate significant energy losses in an entire system. Therefore, optimizing these valves is not only necessary to reduce costs but also to ensure that energy is used effectively throughout the production chain. In summary, energy efficiency in the valve industry is essential both from an economic and environmental perspective, and these valves play a crucial role in efficient energy management in industrial processes.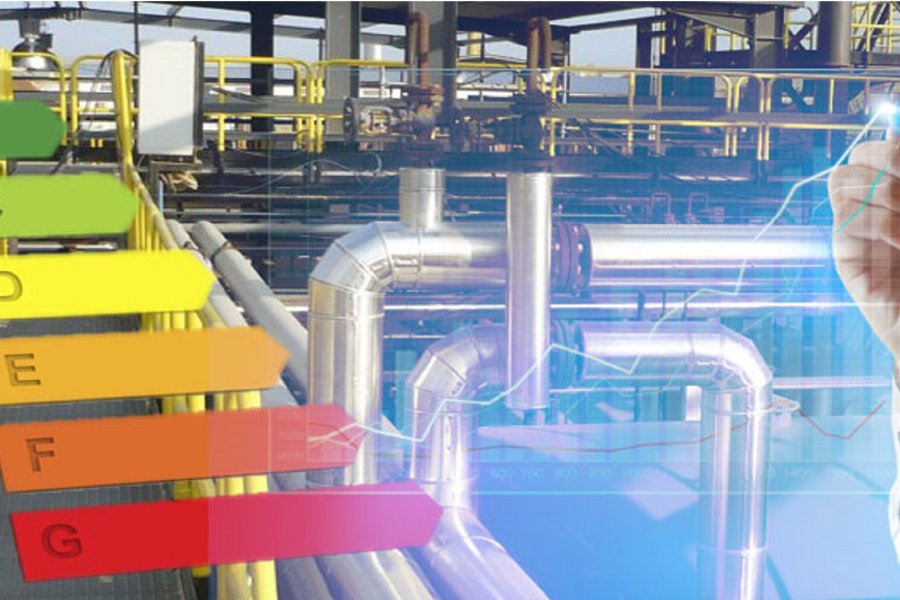 Optimization through Metrology in Industrial Valves
Meticulous attention to metrology in industrial facilities plays a fundamental role in the relentless pursuit of energy efficiency in industrial valves. Metrology, which refers to the science of precise measurement, becomes the heart of valve optimization. Precision in flow, pressure, and other critical parameters' measurements translates into reliable performance and improved efficiency.
This technical discipline combines with valve engineering to ensure that every component functions optimally, which, in turn, results in energy savings and more sustainable industrial performance. The reason behind this synergy lies in the essential nature of valves within industrial processes. These valves are vital parts in flow control systems, and their performance directly influences operational efficiency and energy consumption in a facility. Metrology comes into play by ensuring that valves meet precise specifications in terms of opening, closing, pressure, and flow.
Precise measurement of these parameters is essential for valves to operate efficiently, avoiding leaks and ensuring controlled fluid flow. When valves operate optimally, energy loss in the form of heat and friction is minimized, reducing energy consumption, operational costs, and the facility's carbon footprint. The combination of metrology and valve engineering not only ensures accuracy in the manufacturing and calibration of these valves but also allows for continuous monitoring.
The ability to precisely measure and adjust valve performance in real-time ensures an efficient response to variations in operating conditions. This is especially critical in industries where energy demand fluctuates or where safety and quality are paramount. Ultimately, this collaboration between metrology and valve engineering translates into significant energy savings and more sustainable industrial performance. By optimizing valve efficiency, resource waste is minimized, and more environmentally friendly operation is promoted, which is essential in a world where sustainability and energy efficiency are fundamental priorities.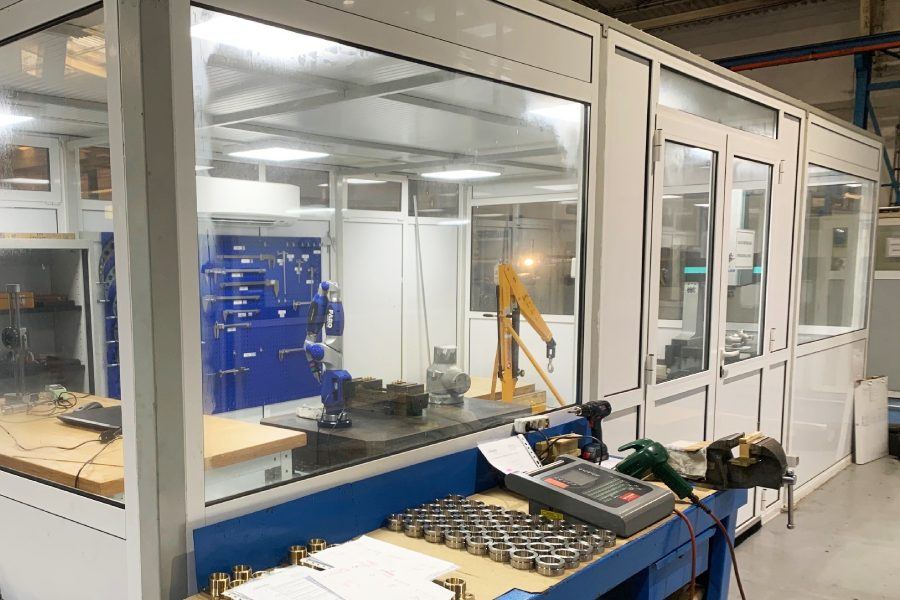 Key Components of Energy Efficiency in Industrial Valves
Energy efficiency in the operation of industrial valves is a fundamental concern for the industrial pump and valve machining industry. To fully understand how to improve energy efficiency in these essential components, it is crucial to analyze the specific aspects that influence their performance. Here, we explore subsections that break down these key components:
Proper design is the starting point for energy efficiency. Industrial valves must be precision-designed to minimize fluid flow losses. This includes considering valve geometry, internal component arrangement, and optimizing opening and closing mechanisms. An efficient design ensures smooth and continuous flow without energy waste.
Choice of Construction Materials:
Material selection is another crucial factor. Construction materials must be corrosion-resistant and capable of withstanding extreme operating conditions. Using high-quality materials ensures that valves maintain their integrity over time, preventing leaks and energy losses.
Proper sealing is essential for energy efficiency. Leaks in valves can be a significant source of energy loss and additional costs. Selecting appropriate seals and regular maintenance to prevent leaks are essential components of efficiency.
Precise flow control is another fundamental element. Valves must be capable of adjusting precisely to maintain fluid flow at optimal levels. The ability to modulate flow based on specific process requirements is essential to avoid unnecessary energy consumption. Energy efficiency in industrial valves is achieved through meticulous design, the selection of appropriate materials, effective sealing, and precise flow control. Understanding and addressing these key components are essential to reduce operational costs and promote sustainable practices in the industrial pump and valve machining industry.
Fittings in the Oil & Gas Industry: Key Elements for Industrial Valve Efficiency
Fittings, often overlooked but of critical importance, emerge as essential components in the energy efficiency of industrial valves, especially in the demanding Oil & Gas industry. Their role in pipeline system integrity is so fundamental that it cannot be underestimated. These components are responsible for ensuring that pipeline systems operate without leaks or interruptions, guaranteeing smooth and controlled flow
In the Oil & Gas industry, where operating conditions are extreme, and any failure can have catastrophic consequences, fittings assume an even more critical role. They maintain tightness in connections between pipes, valves, and other components, preventing fluid losses and ensuring that valves operate optimally. Any leak not only represents a loss of valuable resources but can also compromise safety and system efficiency. In this context, it is essential to understand how the correct selection and precise installation of fittings can significantly influence the efficiency of valves used in the Oil & Gas industry.
Preventing leaks and improving sealing through fittings in the oil and gas sector is an essential aspect. By preventing leaks, not only are valuable resources conserved, but operational risks are minimized, ensuring safety in an environment where accident prevention is a top priority. In this context, fittings not only enhance energy efficiency but also directly contribute to the safety and integrity of systems in the Oil & Gas sector, highlighting their integral importance in the industry.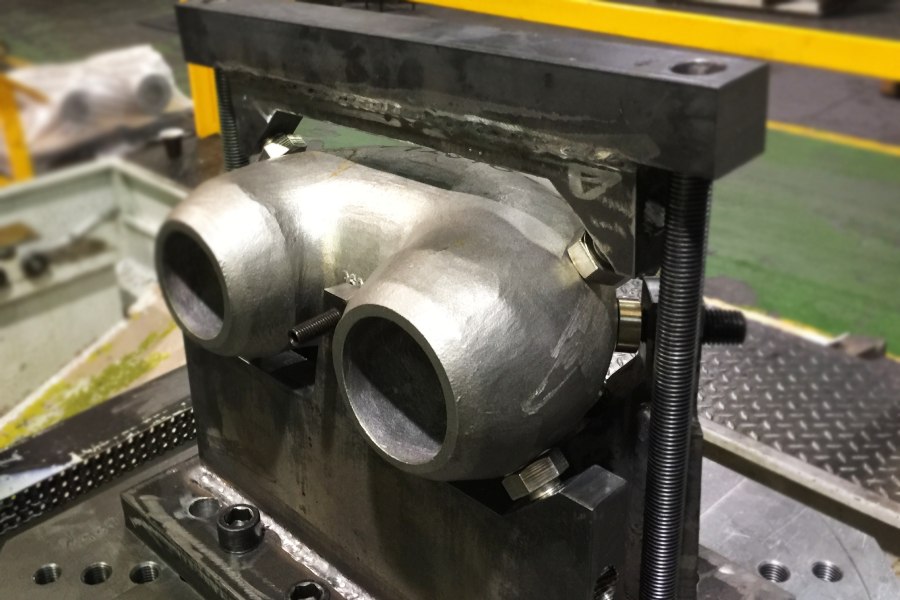 Strategies to Improve Energy Efficiency in Industrial Valves
In the world of industrial pump and valve machining, energy efficiency stands as a crucial pillar for competitiveness and sustainability. To achieve optimal performance, it is essential to implement specific strategies that optimize energy use in valves. Below, we examine two key approaches:
Various strategies and techniques for machining and welding companies:
Optimization of Existing Valves:
Before considering an investment in new valves, it is crucial to evaluate and optimize the existing ones in the system. Implementing a preventive maintenance program can extend the lifespan of the valves, ensuring their efficient operation. Furthermore, through techniques such as regular inspection and adjusting seals and internal components, it is possible to minimize leaks and energy losses.
Selection of Efficient Valves:
When incorporating new valves into a project, choosing those designed for energy efficiency is essential. This involves a thorough analysis of the system's needs, considering factors such as pressure, fluid type, and operating conditions. Carefully selecting valves that match the specific process requirements can result in more efficient energy use from the outset.
Implementing appropriate optimization and selection strategies in the field of industrial valves is essential to improve energy efficiency in the machining and welding industry. These practices not only reduce operating costs but also contribute to a more sustainable and competitive approach in the sector.
Benefits of Energy Efficiency in Industrial Valves

Energy efficiency in the operation of industrial valves is not only an environmental ideal but also a solid economic strategy. By adopting this efficiency in the machining and welding industry of pumps and industrial valves, significant advantages are opened up, which can be categorized into two fundamental categories:
Economic Advantages
Cost Savings:
Energy efficiency in industrial valves directly translates into economic savings. By minimizing energy loss in the form of heat, pressure, or leaks, companies can significantly reduce their operating costs. Less wasted energy means a lower energy bill and greater profitability over time.
Improved Profitability:
The investment in optimizing valves to enhance energy efficiency is often quickly recovered. In addition to energy savings, efficient valves can enhance process effectiveness, which can lead to increased production and sales. This directly contributes to improving the company's profitability.
Environmental Advantages
Reduced Carbon Footprint:
Energy efficiency in valves contributes to reducing the company's carbon footprint. Less energy consumption means fewer greenhouse gas emissions. This not only benefits the environment but also aligns with increasingly eco-conscious consumer expectations and regulatory requirements.
Compliance with Environmental Regulations:
Adopting energy-efficient practices places companies in a favorable position regarding compliance with increasingly stringent environmental regulations. Avoiding penalties and fines related to pollution and energy use is a financial and reputational advantage.
Energy efficiency in industrial valves not only brings economic benefits in the form of cost savings and improved profitability but also promotes a more environmentally conscious corporate culture by reducing the carbon footprint and complying with environmental regulations. It is a win-win strategy that can enhance the competitiveness and social responsibility of companies in the machining and welding industry of pumps and industrial valves.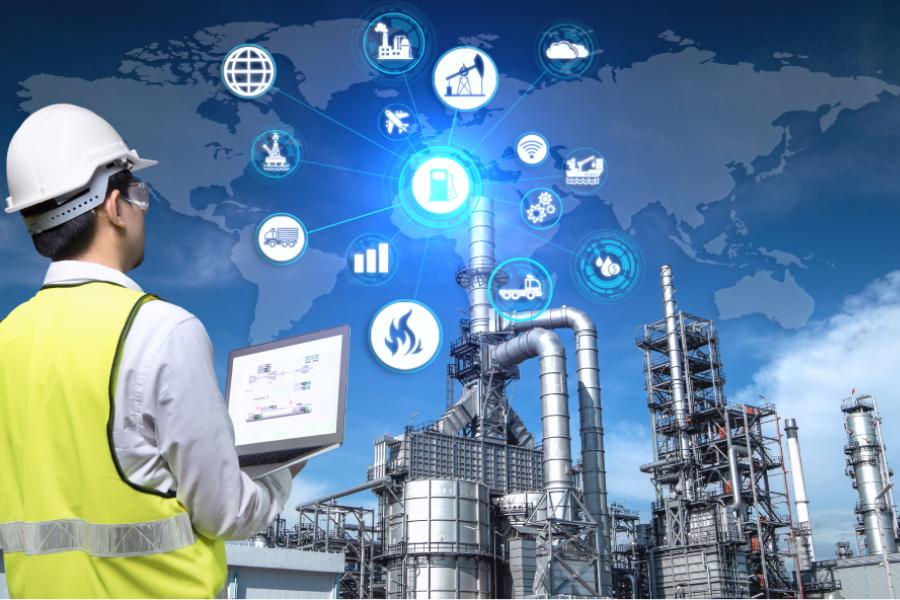 Future Trends in Energy Efficiency for Industrial Valves

The future of energy efficiency in the world of industrial valves looks exciting and full of innovation. As the machining and welding industry of pumps and industrial valves advances, two key trends are emerging as major drivers of energy efficiency:
Emerging Trends and Future Technologies:
Technology plays a central role in the evolution of energy efficiency in industrial valves. The implementation of advanced sensors and intelligent control systems allows real-time monitoring and adjustment, resulting in more efficient energy use. The integration of machine learning algorithms and predictive analytics in valve management enables anticipation and prevention of inefficiencies, leading to significant savings.
Automation and Digitalization:
Automation is a key trend transforming the valve industry. Automated process control systems can adjust valves based on real-time demand, optimizing fluid flow and reducing unnecessary energy consumption. Digitalization, on the other hand, allows for more comprehensive and remote valve management. Connectivity via the Internet and the cloud enables companies to monitor and control their valve systems from any location, facilitating informed decision-making and continuous improvement of energy efficiency.
Furthermore, research and development in new materials and manufacturing techniques are opening up new possibilities for energy efficiency. Lighter and more durable valves, along with advanced manufacturing techniques, are helping to reduce the energy required to operate these essential components.
Future trends in energy efficiency for industrial valves focus on the adoption of emerging technologies, automation, and digitalization of processes, and ongoing innovation in materials and manufacturing. These trends not only enhance energy efficiency but also drive competitiveness and sustainability in the machining and welding industry of pumps and industrial valves.
Promoting a Sustainable Future

In the highly competitive world of machining and welding of pumps and industrial valves, engineering solutions play a crucial role in achieving energy efficiency. In our company, we recognize that the key to maximizing efficiency in industrial valve systems lies in the application of innovative engineering solutions. These solutions go beyond mere component production; they represent a comprehensive approach that optimizes valve performance, thereby reducing energy consumption and operating costs. Our commitment to excellence in engineering solutions allows us to offer our customers products and services that not only meet but also exceed energy efficiency expectations in the industry.
As Asimer Group, we are in a privileged position to lead this shift towards more efficient energy management in the field of industrial valves. We understand that every adjustment, optimization, and informed choice we make in our daily operations has a significant impact, not only on our profitability but also on the environment around us.
Energy efficiency is not just a slogan; it is a commitment. A commitment to environmental responsibility. A commitment to innovation and the adoption of cutting-edge technologies to stay at the forefront of the industry. A commitment to our customers, to provide them with products and services that not only meet their expectations but surpass them.
As we move towards a future where energy efficiency is not only desirable but also essential, we will continue to research, innovate, and lead the way. Our vision is a world where industrial valves not only control the flow of fluids but also efficiently manage energy, reducing costs and minimizing environmental impact.
Together, as a community of professionals dedicated to excellence in machining and welding of pumps and industrial valves, we can forge a path towards sustainability, efficiency, and ongoing success. Energy efficiency is more than a trend; it is a commitment to a brighter tomorrow for our industry and the world at large. At Asimer Group, we are ready to lead that path towards a more sustainable future.